i2School Management Software
i2School is a School Management Software developed by i2Softec Solutions for Schools, Colleges and other Educational Institutions, Which is unparallel and comprehensive School Software that covers each and every entity of School. It is an interactive platform for all the entities of School like Teachers, Management, Financial Department, Students and Librarian etc.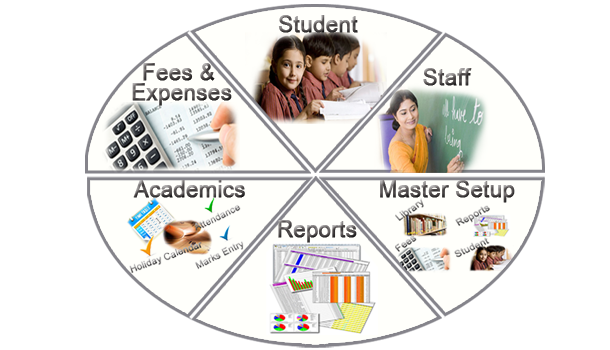 Our School Software comprises of different modules that cover each and every department of school and makes the functioning of any Educational Institute effortless. With School software all the stakeholders of the School can communicate with each other very easily.The added advantage of our software is that it is very cost-effective as compared to other school softwares and it is having much more features comparing to its competitors. It is seamlessly scalable, error free, easy to use and implement. It has a user-friendly interface. This is not only a cost saving measure but also adapts to changes very quickly. Users with little computer knowledge can use this software very easily.
Key Modules
Administration

Fee Collections and Receipt
Fee Concession
SMS
Transport Management
Expense management

Student

Admissions
Attendance
Report Card Management
Student Certificate generator
ID Card generation
Pocket Money Management

Staff

Attendance
Staff Certificate Genration
Payroll Management

Academics

Time Table and Scheduling
Marks Computation
School Calender
Library Management

Reports

Admission Reports
Fee related Reports
Payment collection Reports
Progress Reports
.